IN THIS ISSUE: VOL. III NO. 13 7/1/2022
EDITORIAL
---

Photo: Jay Rhind
Only in Stockbridge
Isn't it lovely? After all these years, Town Hall will no longer be vacant, silent, its windows blank, its timbers moldering. What a long, slow trip it's been.
Former Stockbridge Police Chief Rick Wilcox remembered a day when Chief William Obanhein was asked by Selectman Robert Williams (Claire's husband), "to meet in the center of Town."
Obie went to the Main Street business district roughly midblock. He waited — no Williams. Williams was waiting in front of Old Town Hall. Of course — that was the center of town.
That was the original village green, the heart of Stockbridge, where, in 1737, John Sergeant and Timothy Woodbridge, a committee of two, planned and executed the construction of a "30 x 40-foot Meetinghouse". From then until 2006, it was an ever-evolving "center" of Stockbridge.
In 1813 John Hunt offered to sell 3.5 acres to the Town of Stockbridge at $70 per acre for a new town hall. The Town was unable to raise the $245.
Hunt sold the land to Dr. Oliver Partridge, who sold it to Dr. Thaddeus Pomeroy who sold it to the First Congregational Church of Stockbridge. In 1839 the Congregational Society leased that same piece of land to the town.
"So, in 1839," Wilcox summed up, "the Town ended up leasing the same land Hunt offered to sell to the Town 26 years earlier."
After the fire in 1902, work on the 1840 building began. The building was swiveled, front door put in the right rear, an addition and pillars added. You can still spark an argument about the wisdom of those pillars 118 years later.
In 2006, the building was abandoned by folks with half a plan, a back-of-the-envelope cost estimate, and an imperfect sense of history. Town Offices moved to the Plain School. The school just needed a lick of paint to transform it, they said. A proud old building was empty, and the center of Stockbridge shifted.
Ten years later, in 2016, two organizations expressed an interest in the structure — the Norman Rockwell Museum and the Berkshire Waldorf School. An Old Town Hall Reuse Committee was formed and folded. There was less movement than a stir in the air.
2022: At last, our "center" will be restored; it will be loved and come alive as old Town Hall becomes the Waldorf School. It will be full of activity and the sound of children.
That's the story: 16 years and much more than $16 million dollars later, old Town Hall is a school, and the old school is our Town Offices. The Hall rests on land we could not afford to buy it leased for almost 200 years — only in Stockbridge
Carole Owens
Managing Editor
---

Photo: Lionel Delevingne
NEWS
SU — FYI
Microtransit... Almost
Congratulations Stockbridge! With its partner, Great Barrington, the Town was awarded the pilot program grant (SU, May 15, 2022) for "Demand-response Transit" (DRT). As soon as all the i's are dotted and the t's crossed, DRT will be available. For 1-year, in Great Barrington, Egremont, and Stockbridge, folks can call and get a ride to wherever they are going (for a fee TBD). It will be available Monday - Friday 6:30am - 7:00pm; Saturday 9:00 am – 7pm; Sunday 8:00 – 11:00am and 3 – 6pm. Thank you, Tate Coleman, Chairman, RTAC, tcoleman@townofgb.org and Jamie Minacci, Stockbridge Representative, RTAC, jminacci@stockbridge-ma.gov
---

Skirtbridge. Photo: Lionel Delevingne
PSA from the Berkshire Waldorf High School
School in Talks to Renovate Old Town Hall in Stockbridge as Future Home
Berkshire Waldorf High School is pleased to announce that now a multi-year fundraising campaign makes it possible to begin the renovation of Procter Hall as the future home of the school.
The school will retain an architect to design the space and an engineer to assess the building's needs. Once this is complete, renovation of old Town hall will begin.
Executive Director and Faculty Chair Stephen Sagarin said the capital campaign donations will enable the school "to double our current square footage, creating more and larger classrooms and a science lab, while remaining in Stockbridge within walking distance of the town center."
"Stockbridge can finally realize its dream of finding a permanent use for this 1829 historic structure," added Teresa O'Brient, Chair of the Board of Trustees of Berkshire Waldorf High School, a longtime Stockbridge resident, and owner of the Stockbridge Country Store. "We are so excited to finally have the resources to fund the extensive remediation and renovation effort that will be required to open a new chapter in the story of the Old Town Hall."
The First Congregational Church, UCC, in Stockbridge voted unanimously on Sunday, June 26, to approve a memorandum of understanding between the Church and the School to partner in bringing the building back to life. The Church and the School have formed a close working relationship over the past years of the pandemic, and see this partnership as "win, win, win," according to pastor Brent Damrow, "for the Church, the School, and the Town."
The Town of Stockbridge will need to approve aspects of any plan, probably later this year. Sagarin noted, "While we understand the complexity of a successful completion of this transaction, we believe that Procter Hall is uniquely suited to the long term needs of the High School, and we are excited to partner with the Church and the Town to negotiate a transaction that is in the interest of all parties."
Berkshire Waldorf High School is currently located in rented space on Pine Street in Stockbridge. The school is 20 years old and just graduated its 16th senior class. The school's tagline, "Small school, big world," conveys its commitment to the community and beyond.
It offers Honors-level, college preparatory academics and is integrated into the larger community, including renowned artists' studios, labs, libraries, and gyms, Shakespeare & Company's Fall Festival of Shakespeare, field trips to events and museums in the Northeast, and international travel, including Germany, South and Central America, and France.
Please contact Stephen Sagarin at ssagarin@berkshirewaldorf.com or at 413-207-2507 with questions or for more information.
---
From Michael Canales/Stockbridge Town Administrator
FY 2023 (Effective July 1, 2022) Select Board Appointments
Agriculture and Forestry Commission
Mathieu Boudreau
Lisa Bozzuto
Eric Rasmussen
Shelby Marshall
Abigale Fredsall
Animal Inspector John Drake
Animal Control Officer John Drake
Board of Registrars
Nancy Clark
Nancy Wilcox
Jennifer Carmichael
Berkshire Regional Transit Authority Rep. Jamie Minacci
Berkshire Regional Planning Rep. Christine Rasmussen
Building Inspector, Alternate Paul Green
Building Inspector, Alternate Matthew Kollmer
Cable Advisory Committee Rep. OPENING, Michael Canales
Cemetery Commission
Karen Marshall
Candace Currie
Cemetery Consultant Rich Atwood
Community Preservation Committee Reps.
Carole Owens
Patrick White
Conservation Commission
Ron Brouker
Lisa Bozzuto
Jaime Minacci
Tom LaBelle
John Hart
Joe DeGiorgis
Sally Underwood-Miller
Chuck Kohrer (alternate)
William Loutrel (alternate)
Council on Aging
Chris McCarthy
Ronald Muir
Nancy O'Brien
Diane Sheridan, Chairman
Cultural Council
Andrea Sholler
Joe Tonetti
Barbara Cooperman
Janet Egelhofer
Rena Zurofsky
Selena Lamb
Terry Moor
Maureen O'Hanlon
Isabel Rose
Judith Wilkinson
Elderly & Disabled Tax Committee
Maria Carr
Beth McCormack
Helen McCormick
Emergency Management
Scott Muir
Deputy Fire Chief Neil Haywood
Gas Inspector Greg Pilling
Alternate Gas Inspector Robert Gennari
Alternate Gas Inspector John VanZandt
Fountain Committee
Kate Fletcher
Carl Sprague
Gigi Kingston
Robert Jones
Green Communities Committee
Laura Dubester
Mike Buffoni
Pat Flinn
Miles Moffatt
Starbuck Smith
Historic Preservation Committee
Carl Sprague
Jorja Marsden
Peter Williams
Gary Johnston
Chantal Rhind
Pam Sandler
Lisa Sauer
Historical Commission
Maria Carr
Linda Jackson, Chair
Peter Williams
Kampoosa Bog Stewardship Committee
Arthor Dutil — National Shrine of The Divine Mercy
Laura Beasly
Lisa Bozzuto
Rich Bradway
Louise Gachet
John Hart
PILOT Committee (Payment in Lieu of Taxes)
Tom Stokes
Jay Bikofsky
Roxanne McCaffrey
Peter Strauss
Planning Board Secretary Jennifer Carmichael
Plumbing Inspector Greg Pilling
Plumbing Inspector, Alternate Robert Gennari
Plumbing Inspector, Alternate John VanZandt
Sewer and Water Commission Secretary Jennifer Carmichael
Stockbridge Bowl Association Chuck Cardillo
Stockbridge Bowl Stewardship Commission
Patrick White — Select Board
John Loiodice, Sewer & Water Commission
Mike Buffoni, Water and Sewer Department
Open, Conservation Commission
Roxanne McCaffrey, Stockbridge Sportsmen's Club
Michael Nathan, Stockbridge Bowl Association
Jim Wilusz, Tri-Town Health Department
Gary Kleinerman
Board of Health — OPEN
Town Counsel Donna Brewer
Veterans Agent: Laurie Hills, District Director
Wire Inspector Nick Fredsall
Alternate Wire Inspector Henry Blanchard, alternate
Zoning Board of Appeals
Tom Schuler
Jim Murray
John Hyson
Patricia Andrew
Miles Moffat
Mark Mills — alternate
Catherine Chester — alternate
Editor's Note: Read over the list — it is nice to see how many new people are getting involved in Town government. Also check for the word "opening" and volunteer to take a seat.
---

Photo: Jay Rhind
NEWS
Events
1. Naumkeag Music on four Thursdays and one Tuesday as follows: Thursday July 14th — Fiesta Del Norte, Thursday August 11th — Kina Zoré, Tuesday August 23rd — The Late Risers, Thursday August 25th — The Lucky Five and Thursday September 8th — The Wanda Houston Band
2. Tri-Town Board of Health and Austin Riggs present — Coping post COVID19 — What can we learn from our experiences during the pandemic? Date: Saturday, July 9 Time: 9:00-10:30 a.m. Location: Outdoor Shrine at the Marian Fathers (at Eden Hill, Stockbridge)
3. Stockbridge Bowl Association Beach Day Saturday July 16, Town Beach 10am – 1pm
4. Stockbridge Library Book Sale July 8 9am – 5pm, July 9 9am – 5pm and July 10 10am – 4pm
While in library, look at "Spotlight" (a special display) in the Archives downstairs
---

Photo: Jay Rhind
NEWS
Notes from the Conservation Commission (ConCom), June 14, Hybrid meeting
Present:
Ron Brouker, Chair via Zoom
Sally Underwood-Miller, Secretary
John Hart
Jamie Minacci
Lisa Bozzuto
Tom LaBelle
Bill Loutrel
Chuck Koher
Marie Raftery via Zoom
Minutes of the last meeting approved as corrected
Vincent Park — not present — matter continued
Gregg Wellenkamp — not present — matter continued
Sarah Mnookin, owner, for One Dugway Road

Unoccupied for three years
Issue for ConCom — silt fence while under construction due to proximity to wetland, brook or water
Will footprint change? Yes, as have to remove center portion which is rotted and address foundation issues
ConCom has plans, photos, and existing condition report from owner
In addition three or more dead trees will be removed. Brouker requested marking the trees to be removed
ConCom requested site visit — scheduled
Underwood-Miller recommended they file Notice of Intent (NOI)
Mnookin asked what they can do before NOI submitted and reviewed. Underwood-Miller said nothing within 100 feet of wetland and no exterior without permit

ConCom received Emergency Certificate Request to replace/repair Beaver Deceiver in Kampoosa Bog — Requested by Department of Transportation (DOT). Granted
Via Zoom, Anita Schwerner asked about the Wellenkamp issue. Evidently trees were removed on his property without ConCom approval, required replanting was not completed, and no report was submitted by Wellenkamp.

Schwerner said it appeared he was disrespecting ConCom and the Town. Is there a fine? Or some action that can be taken?
Hart said the property is for sale and cannot sell without a Certificate of Compliance (CoC)
Another ConCom member said those are two different properties both owned by Wellenkamp — apparently the other is for sale not the one under discussion
Schwerner restated that it was disrespectful, and wanted to know how Wellenkamp can be the Town's representative to GZA (consulting group writing lake management plan) with respect to dredging under these circumstances? Also asked why it has taken 10 years to dredge with Wellenkamp as representative?
Bozutto favored sending a certified letter

Annie Selke, owner; Jeff Lynch, designer; Mark Volk, Foresight Land on behalf of 212/218 Old Stockbridge Road. Evidently trees were cut down without permission, replanting took place as required, and now they wanted a Certificate of Compliance (CoC).

Con Com felt could not grant CoC, but will wait and see if trees survive and also address issues related to Scenic Mountain Act
Chair was hesitant to grant it until SB and PB review.
Every aspect complicated by both properties being in Lenox and Stockbridge and the two towns having different requirements, for example, length of driveway permitted
Selke wanted it understood that the original cutting was not done without permission. Apparently, it was 2016 and Selke approached the Lenox PB, the Stockbridge PB and Forestry (a Commonwealth office?) and was granted permission
Underwood-Miller wondered if Stockbridge PB thought she was cutting in Lenox and Lenox PB thought she was cutting in Stockbridge? DeGiorgis was on ConCom in 2016 but was not present
Lynch was under the impression, from his research, that Stockbridge, while one of the first towns in state to sign onto Scenic Mountain Act, the Town did not actually complete the required paperwork with the Registrar of Deeds
Continued — site visit before next meeting

Hart asked about Performance Standards. Bozutto replied they were completed and sent to Town Counsel
Hart wanted to have a list of requirements (especially I the Lake and Pond overlay District) given to Real estate agents so folks thinking of buying around the lake would know what is required before they buy. Other members seemed to feel this information was already available online and from Building Inspector.
Meeting adjourned
Editor's Question: Did Lynch check with the correct Registry? Stockbridge records are in the Pittsfield office not the Great Barrington office. Hope there is follow up on this.
---

Photo: Lionel Delevingne
NEWS
Notes from the Historic Preservation Committee, June 15, Hybrid meeting
Present:
Carl Sprague, Chair
Peter Williams
Jorja Marsden
Lisa Sauer
Pam Sandler
Minutes of the June 6 meeting approved as written
Attorney Lori Robbins, Designer David Potter, and owner Gail (last name inaudible) on behalf of 15 Lakeview Drive

Permission to demolish
Williams: no historic value
Is house to be built larger than one demolished? Yes, as it is 2-story replacing a one story, but it is sited further from The Bowl
Demolition approved

Sarah Mnookin, owner, on behalf of One Dugway Road

Is the structure(s) historic — yes
Are the proposed changes substantial? — discussion

Substantial alterations to an historic building not allowed under the bylaw. What does substantial mean? Sanders: these changes clearly are substantial. Marsden agreed. (Includes both demolition of a section and an addition)

Williams argued "not substantial" — Sprague agreed and called changes "in keeping with" — Williams argued the meaning of substantial as doing best to preserve character given the current condition of buildings
Sauer said (center section to be demolished) contains "King's boards". King's boards are very largest boards cut from largest trees. If they save and reuse, then Sauer satisfied that they are doing best to preserve given current condition — Marsden agreed since keeping and reusing it is "in keeping"
Williams further argued, the bylaw says, "does the proposed plan alter or materially compromise the historic or architectural character of the building?"
Motion: "Work does not significantly alter as defined in bylaw" Passed — work approved
Meeting adjourned
---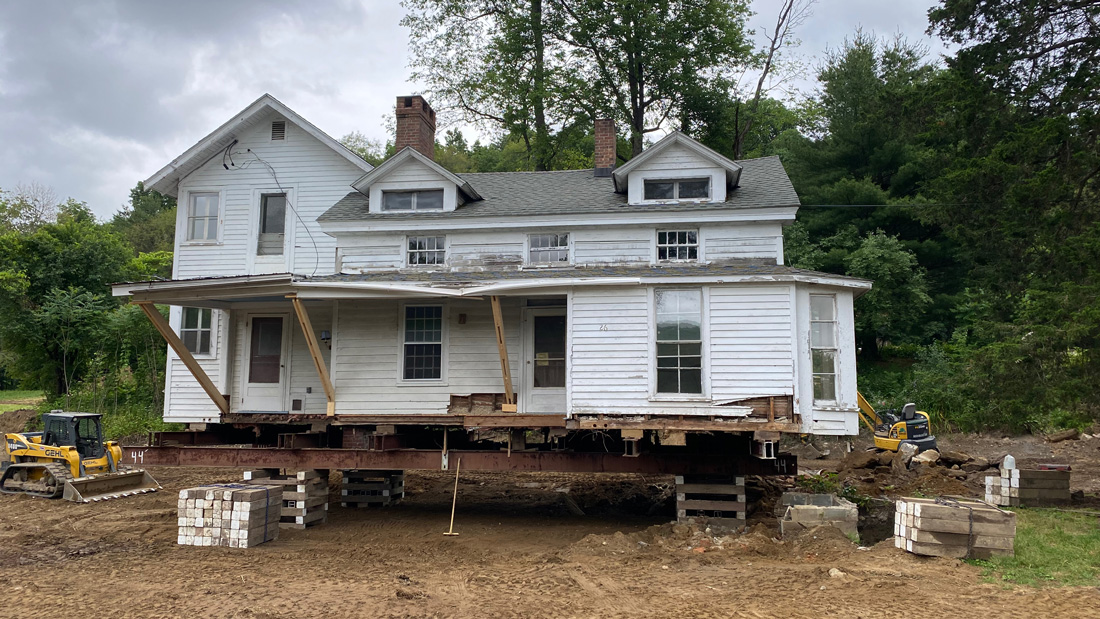 Cherry Hill Road, AKA Agrippa Hull's house, ready to move. Photo: Patrick White
NEWS
---

Naumkeag. Photo: Lionel Delevingne
Notes from the Board of Health (BOH), June 16, Hybrid meeting
Present:
Charles Kenny, Chair
Hank Schwerner
John Loiodice
Jim Wilusz, Executive Director, Tri Town Health
Kenny thanked Rae Williams for her service and contribution to the BOH and welcomed new member John Loiodice
As usual following an election, there is an election of BOH officers: Kenny elected chair and Loiodice secretary
Approved minutes from August 30, 2021 as written
Public Hearing: 38 Lake Drive

Brent White on behalf of 38 Lake Drive — permit to demolish and build new
BOH purview: septic proposed to the side of house
Number of bedrooms will remain the same (3) in old and new houses
Permit required as it is a variance: greater than 50 ft but less than 100 ft from wells on this and neighboring property
New technology — Wilusz recommended and no objection from neighbor
Approved as meets Title 5 and a maintenance contract signed by owner (which will follow title even if property sold)

Reminder of July 9 Forum — Coping post COVID19 — 10:30am at Marian Father's Outdoor Shrine on Prospect Hill Road
Editor's query: Wilusz commented on the substantial cost of these septic systems (possibly as much as $60,000). With all the building around the lake, each requiring a new septic, if the new owners got together, couldn't they cover the cost of connecting all of them to Town sewer? Wilusz, Loiodice, and others have remarked often that it would be healthier for lake.
---

Photo: Lionel Delevingne
NEWS
---

Michael Nathan takes one of the harvesters out for its 2022 maiden voyage. Photo: Patrick White
Notes from the Stockbridge Bowl Stewardship Commission, June 17, Hybrid meeting
Present:
Jamie Minacci, chair
Roxanne McCaffrey, Sportsman Club
Michael Nathan, Stockbridge Bowl Association (SBA)
John Loiodice, Water and Sewer Commission
Jim Wilusz, Tri-Town Board of Health via Zoom
Pat Kennelly, Pres. SBA, via Zoom
Minutes from May 6 meeting approved; minutes from April 1 tabled
Harvester update:

One awaiting replacement part; the other will be put in the water when the water chestnuts (an invasive) are pulled up — perhaps in a day or two
Kennelly — test plots will be determined, and areas will be marked with buoys perhaps in a week as cannot harvest in test areas
Nathan — please decide and mark quickly as folks around lake want harvesting

Citizen query? None
Water testing? Buffoni not present
Report on Zebra Mussels? Kleinerman not present
No new report on dredging
Loiodice, Water and Sewer Commission — 21 Interlaken will connect to sewer and that will create opportunity for others to connect. Not required but should connect if have opportunity
Wilusz, Tri-Town Health

Lake Drive new septic system could cost as much as $50-60k. For health of lake and comparative expense — nice if could extend sewer all around lake
COVID in yellow (not increasing) — home tests available — no changes unless another uptick

Lake Management Plan sent to the consultant, GZA, and not back yet
Nathan requested copy of new roster when appointments completed by SB
Meeting adjourned
---

Photo: Lionel Delevingne
NEWS
Notes from the Select Board (SB), June 23, Hybrid meeting
Present:
Patrick White, Chair
Chuck Cardillo
Jamie Minacci
Michael Canales, Town Administrator
Also attending via Zoom and in person: Kate Fletcher, Bruce Blair, Larry Ackerman, John Hart, Ron Brouker, and others identified if they spoke
Request for a Special Permit. On behalf of 8 Hawthorne, Daniel Pincus, owner; Attorney Elizabeth Goodman; Mark Volk, Foresight Land Surveying; Jay Rhind, Builder.

Goodman requested permit to build new house on a pre-existing, nonconforming lot
Goodman presented house plans and asserted an overall decrease in nonconformity.
White pointed out that the bylaw does not call for an aggregate decrease but a decrease on each boundary.
Canales said, after conferring with Town Counsel, it was clear that the intent was to take distance from each lot line separately
Goodman said her "legal position" was that the proposed house "will not be in greater nonconformity" as no closer to lot line.
Cardillo said the proposed house added to nonconformity. Minacci agreed
White called for a continuance to consider and discuss
Cardillo called for the vote — permit declined unanimously

White announced July 28 for the annual second homeowners meeting with SB
White called for public comments and Hart asked about private driveways being considered public roads to the extent that using Town funds to repair them.

He offered an example.
White said in that case it was brought to Town Meeting and the voters approved the expenditure

Hilary Deely on behalf of Laurel Hill Association announced that the oldest civic beautification organization in the US will celebrate the 200th anniversary of Frederick Law Olmsted's birth this year with events in August
Pat Kennelly on behalf of Stockbridge Bowl Association announced their 75th Anniversary this year with events open to everyone beginning in July (See SU Events)
Cardillo requested a Special Town meeting to discuss and consider proposed changes to Main Street in September/October with a preliminary informational session in August
Lis Wheeler, newest member of the Planning Board, discussed housing

White said Stockbridge is doing well — it is one of the few towns who met the requirement for 10% affordable housing — however, we could do more
Wheeler presented the Housing Production Plan (Lenox just completed theirs)
White suggested taking $50,000 from the American Rescue Plan Act (ARPA) awarded to Stockbridge and conduct a study to determine what Stockbridge needs
Motion made and passed — White thanked fellow SB members saying "this was important to me"

Stockbridge Bowl

Dredging — no action
Test plot — not approved
Water chestnut removal—completed
Harvesting? — can harvest channel now, and then as soon as test plots approved by Department of Environmental Protection, can harvest everywhere except in test plot

Still no repair part available for smaller harvester but larger harvester should be in lake this week

Ice Glen — trees are being treated. All ash trees completed. Will treat as many hemlocks as possible
Soldier's Monument — bidding complete, contract awarded to Allegrone
Averic Road bridge completed
CTSB cannot cover all meetings — staffing issue.

Canales said those Stockbridge boards and commissions with paid secretaries could be trained to operate Zoom equipment.
White hoped that all meeting could be covered as in a population of 2000 Stockbridge has 1000 over 65
Canales said it might cost $20,000 to $30,000 annually to cover all
Hart and Brouker seemed to favor in-person meetings; Cardillo seemed concerned about the cost
White said follow Canales' suggestion and bring up the expenditure at the special Town Meeting and let voters decide

One-day alcohol licenses approved for events at Chesterwood, Norman Rockwell Museum, and Berkshire Botanical Garden
Finished appointments for this year (list in this issue). Apparently, there was heightened interest in SB representatives to Stockbridge Bowl Association (SBA) and Stockbridge Bowl Stewardship Commission (SBSC). The Chair decided on the basis of seniority, that is, length of time on SB. Longest-serving member Cardillo selected SBA and second-longest White selected SBSC.
Meeting adjourned
---

Photo: Lionel Delevingne
PERSPECTIVE
Housing Production Plan — what is it?
by Patrick White
At the June 23rd meeting, the Stockbridge Select Board voted to move forward with a Housing Production Plan. I'd like to take a moment to explain what it is, and why we need one.
In Stockbridge, we have some challenges surrounding housing. With over a thousand full-time residents in their 60s and older, is it important to the community that we give the 10-12% who, according to studies, will need to downsize options to do so in their hometown? If so, should this housing be limited to those who qualify for affordable (subsidized) or should they be available to everyone via a market rate option? If the people of Stockbridge determine this goal is important, how do we do it?
Similarly, is it important to us that we maintain the centuries-old tradition of a town where at least some of its residents can afford to live here as they work in the area and raise their families? If the people of Stockbridge determine this goal is important, how do we do it?
Finally, it is important to us that we encourage diversity in its many forms: diversity in terms of level of wealth, race and ethnicity, age, perspective, lifestyle? If the people of Stockbridge determine this goal is important, how do we do it?
The "how" is often the sticking point. How do we pay for it, with whom should we partner, do our bylaws support it? How do implement change while avoiding unintended and potentially damaging consequences?
These are the sorts of tough questions a Housing Production Plan can answer.
The plan will provide us with a snapshot of where we are, coupled with a process that is heavily weighted toward community involvement and input to determine where we want to be and the steps we need to take to get there.
I am looking forward to working with the Select Board, the Planning Board, and the people of Stockbridge to help manage an open, transparent process that in the end can serve as a consensus blueprint for how we manage and prioritize the housing challenges we face.
These are hard questions but I have every confidence in the ability of this community to work together to ask them without fear, discuss and debate them without rancor and answer them in the spirit of what is best for the future of our town.
Patrick White is Chairman of the Board of Selectmen
---

Photo: Patrick White
PERSPECTIVE
A Blast from the Past: Mounting Evidence
by Tom Labelle
Thank you to Conservation Commission member, and researcher par excellence, Tom Labelle
The Stockbridge Conservation Commission met for the first time in September 1962. In 1965, in the Annual Town Report, membership of the Conservation Commission was: J.F. Decker, Chairman, John (Jack) Fitzpatrick, Mary Flynn, John W. Hatch, Raymond Mercier, Dr. Eugene Talbot, and E. Gillette Wilcox. The Statement of Purpose read as follows:
The Conservation Commission in Stockbridge has laid the foundation for an intelligent program of conservation that would maintain the character and quality of the community. At the request of the Commission, Vaughn Gray did a map of the town indicating lands owned by the town
and by Laurel Hill to be used as a basis for study of specific areas of interest. These areas of concern are the Housatonic River, the highway approaches to the town, natural woodlands and
wetlands and historic landmarks. In recommending the retention of land areas owned by the town and the acquisition of open spaces on the approaches to the town, the commission has held joint meetings with the Board of Selectmen, the Planning Board and Conservation
Commissions in neighboring towns. During the coming year the Commission plans to make specific recommendations for land acquisition. These will be in accordance with the commission's basic philosophy that it is desirable in our expanding megalopolis (sic) today to plan wisely for the future. These ends can be realized by setting aside public lands for the
benefit of our expanding population and by maintaining the identity of the town by preventing unrestricted development of the approaches to Stockbridge.
There is mounting evidence that developing land rather than leaving open spaces causes tax increases. Many towns have had the experience of developing land to bring in added revenue and then appropriating many times that amount for municipal services. Open space will not only save money, but it will provide enjoyment, recreation and conservation for our own and future generations.
---

Photo: Lionel Delevingne
PERSPECTIVE
League of Women Voters
by Ramelle Pulitzer, President with Board Members Amy Cooper, Stockbridge; Betty Farbman, Egremont; Lucy Kennedy, Lenox; Susan Morris, Stockbridge.
Have no doubt about it: There is a local League of Women Voters. And it's going strong!
The Central Berkshire County Chapter (LWV CBC) was recognized in 2020 as the 47th Chapter of the League of Women Voters of Massachusetts (LWVMA)…just before the pandemic hit.
Pre-COVID19, LWV-CBC met monthly at the Stockbridge Library. When we had to move online, attendance dropped quickly. Nonetheless, several people persevered: We now have a board of five and a membership of 30 men and women dedicated to the mission and goals of the League:
"… a nonpartisan, grassroots organization working to protect and expand voting rights and ensure everyone is represented in our democracy. We empower voters and defend democracy through advocacy, education, and litigation, at the local, state, and national levels." (www.LWV.org)
An early challenge for our chapter, was the change in rules for voting in Massachusetts in the November 2020 elections. We connected with our neighbor leagues and learned strategies for voter engagement. We staffed information tables and distributed registration materials. We also discovered Vote411.org, a website chockful of information, which is hosted by the LWV of the United States (LWVUS).
Berkshire County, with its many self-governing towns and cities, constitutes a special challenge, and this is particularly true for local elections. But it is also a challenge for statewide elections, when information must be shared widely. In 2020, we tried to reach every locale in the Central Berkshires, distributing lawn signs and voter calendars of key dates: last day to register; last day to get a mail-in ballot; dates of the primary and general elections. Given the pandemic challenges, some town clerks needed additional support, so we linked them with high school students, who received the appropriate training and helped staff the polls.
Voter turnout in 2020 was encouraging, breaking records across the Commonwealth, with 75 – 90 percent turnout in Central Berkshire County.
Conversely, local election turnouts in 2021 were dismal. For example, one third of registered voters participated in the election for Selectman of Stockbridge. The result: an extremely close count, a recount, and finally a win by a margin of five votes. This example clearly shows the importance of every vote. LWV CBC intends to keep voter turnout a top priority. This coming season, we plan to encourage and enable more voters to get to the polls, especially traditionally disengaged voters. We have ideas, and we have hope!
Your participation as a member or volunteer would make a big difference. You don't need to be a full-time resident. Please explore our website and join us.
https://lwvcentralberkshires.org/membership-account/membership-levels/
---

Photo: Lionel Delevingne
PERSPECTIVE
Those Trees
by Michael Forbes Wilcox
The title of this post reflects two of my active interests. I enjoy hiking, seeing trees at various stages of growth, and I study Native American culture. "Nigik Abaziak" is an Abenaki phrase meaning "Those Trees". Abenaki (more formally called Western Abenaki) is a dialect in the Algonkian language group.
"kokohas" means owl — an onomatopoeic word, mimicking the "koo" part of the owl's call. I was pleasantly surprised to come across a tree named kokokhoakw — literally "owl tree." (The English name of the tree is balsam fir, which is favored by owls for sheltering their owlets.)
Recently, I conducted an overview course for Berkshire OLLI on "Indigenous Peoples of the Northeast", which included a few examples of language use. At the end of that course, one of my students requested a list of Abenaki names for trees. I have assembled such a list, but gathering it turned into a bigger project than I had expected. I ended up with 91 entries, and there could have been many more. Fewer than half of those are actual tree names; the rest are words that relate to fruits of trees or bushes (such as "sata" — the word for "blueberry"), or words for types of woods, or for areas that have been cleared of trees, and many others that I thought would be of interest.
Here are a few examples. Each line is taken directly from a recent version of the online Abenaki dictionary being used in the language course I mentioned. The Abenaki word is given first, followed by its plural (pl), and then an English translation.
abazi pl abaziak tree, a living tree
maskwaimozi pl maskwaimoziak a white birch
satamozi pl satamozial blueberry bush
medawinnoibegotaigan pl medawinnoibegotaiganal a witches broom, an abnormal growth of tree branches
anaskemezi pl anaskemeziak a red or black oak tree, Quercus rubra, Quercus velutina
ogemakw pl ogemakok white ash (snowshoe wood, Fraxinus americana)
pabalakw pl pabalakok American sycamore, smooth tree, Platanus occidentalis
wajoimizi pl wajoimiziak a beech tree, Fagus
One could use these names (and many others listed in my spreadsheet) to simply point and say, "Wajoimizi na!" ("That is a beech tree!"). Or, to treat the trees in a more friendly way, one could say "Kwai kwai, wajoimizi, paakwinogwzian!"
transliteration: Hello hello, beech tree, you look new to me! ( it's good to see you again!)
When I lead a hike, I sometimes offer an incantation: "N'dalosabna kpiwi pasojiwi ta pozidokiwi ta nopaiwi!" ("We are going into the woods nearby and over the hill and far away!").
---

Photo: Lionel Delevingne
PERSPECTIVE
Twenty-nine Per Cent
by Bruce Blair
Twenty-nine percent of our registered voters voted in the town elections this year. In an era of change, growth, new challenges and age-old problems, with the future of Stockbridge at stake and a cry for more open government, we could not interest more than 29% of our registered residents to vote on issues and people who will shape what becomes of this town.
We are a weary, divided 29%. Big development folks are no doubt continuing to make election plans. I hope they research and document the basis for their plans as the current Select Board is now beginning to do. Who will be better off? How will the developers and their supporters prove it? Research and data are critical. But prove the need first. A mini-building boom happened while we debated cluster housing /open space. Where are we now?
What of the 71% who did not vote? It would be hard to blame them for finding that the proposed development bylaw proposal was hard to understand. Or for confusion about oversight at the Bowl and competing plans to control weeds. Perhaps they were just weary too, not interested. At times we have seemed like a mirror image of the national divide. At times, things have been said and done that do not seem like the old Stockbridge, more like the dysfunctional Washington of our bad dreams come true here.
What about the people who seem to be footing the bill for much of the budget? Second homeowners pay taxes but cannot vote. Surely, they deserve to be heard. Residents hold the town together and grapple with everyday issues. We live here. But only 29% voted. Awareness and personal interest drives voting. The more you know, the more you understand. In the age of opinions masquerading as facts, hidden agendas, political gamesmanship, outright lies, and unprecedented self-interest, many people are weary.
Voting is serious business. Uninformed voters are too common. Non-voters are far more common. We should not hire consultants to push agendas. We hire them to find facts. And we are perfectly capable of doing much of our own research before we jump on bandwagons. If you don't vote, you get what you get in the end. If we want Stockbridge to keep being Stockbridge, all of us need to do our homework, speak up, and vote.
---

Lion's Gate parking for the Bonnie Raitt concert. Photo: Patrick White
---

Photo: Lionel Delevingne
The Last Word
Reader to Reader
Carole,
There was an interesting discussion about Hybrid Meetings at the June 23 Selectmen's Meeting. Although I wasn't there in person or on Zoom, I later watched the meeting on CTSBtv.org to learn what took place. I would like to comment in SU, and I will also email the selectmen.
I disagree with Chuckie's statement that if you don't participate in a meeting in real time, it is useless "after the fact".
Streaming on CTSB is the only way to know exactly what happened and that requires hybrid meetings. You can always comment "after the fact" by contacting board and committee members.
Chuckie added, you can find out what took place by reading the newspaper. We all know that's not true. Stockbridge Updates highlights what took place at almost all Town meetings.
The discussion centered around a staffing shortage at CTSB making them unable to cover all town meetings in the future and the options that are available to the town to continue providing coverage. CTSB will cover selectman's meetings and possibly other regulatory boards but not all meetings.
One option from CTSB is to hire their staff members, if available, at a cost of $50/hour to provide the support needed.
Another option brought forward by Michael Canales can and will be tried now. It is to train the paid committee secretaries as well as other town staff or committee members to login to Zoom, to enable screen sharing, and, if necessary, to quickly end a meeting in case of Zoom bombing. It's not difficult.
CTSB would still post the recordings on their website and the IT budget could cover the cost for some meetings that need assistance. If in the future there is a need for more funding, the question can be brought to voters at a Special Town Meeting or annual Town Meeting. Sounds reasonable to me.
The voters at the May 16 town meeting passed the article requiring that all town meetings have a real time remote component. (There was an amendment added if posted site visits include deliberations, they are exempt.)
The unique characteristics of Stockbridge increase the importance of continuing hybrid meetings. Over 50% of residents are over 65 and over 60% are second homeowners. Without the remote component and CTSB there would be a lack of transparency with regard to what takes place at town meetings.
Anita Schwerner
---

Photo: Lionel Delevingne
Carole,
The Duke family (Jessie, Frank, Chris and Rachel) will be hosting a Golf Tournament and Silent Auction/Raffle fundraiser on August 20, 2022 at Wyndhurst Golf and club (formerly Cranwell Resort) in honor of their son and brother, Dan Duke.
Twenty-one years ago, when Danny was 22 years old, he suffered a head injury while attending college. He spent many months at Spaulding rehab in Boston, though never regained consciousness. For the past 21 years, Danny has lived at a nursing home within a mile of his parent's home in Lenox, where they spent every day with him. Danny passed away on May 19, 2022 due to complications from COVID.
The family has lived in Lenox for 46 years and is proud to call that community home. Both sons were a part of the Lenox Public School System, and Danny also attended and graduated from Monument Mountain Regional High School, BHRSD. The funds raised from this event will be added to the existing scholarship, The Dan Duke Memorial Scholarship Fund, that has been created to support students graduating from MMRHS and to honor Dan.
You can register for the golf tournament at dandukegolf@gmail.com. $110 per person with a shotgun start at 9AM. Please email the players' names and contact information to this email address. Checks can be payable to: The Dan Duke Memorial Scholarship Fund or by Venmo to @DanDuke-Golf. Checks can be mailed to Frank Duke, 228 New Lenox Road, Lenox Massachusetts 01240. If anyone wants to get involved — help out, contact me.
Bets wishes,
Rick Wilcox
---
Celebrating Ben Franklin, Publisher
Carole,
Ben Franklin was many things: inventor, author, the first US Postmaster General, drafter and signer of the Declaration of Independence. Before all of that, however, he began his career as an apprentice, a printer, and a publisher.
Franklin went on to become one of the most accomplished and influential publishers in Colonial America.
Fast forward nearly 250 years, and I continue to be inspired by how ordinary folks like Ben Franklin, publisher, came together on July 4, 1776 to declare:
"We hold these truths to be self-evident, that all men are created equal, that they are endowed by their Creator with certain unalienable Rights, that among these are Life, Liberty and the pursuit of Happiness."
Franklin recognized that a free and functioning press was essential to ensure a free and functioning democracy. Thank you for channeling Ben with Stockbridge Updates, and have a wonderful Independence Day.
Patrick White
---
Stockbridge Updates Statement of Purpose
To inform without opinion or pressure and give the people of Stockbridge the facts they need to make informed decisions.
To provide space for opinion, but since facts and opinions are different, to clearly mark opinion pieces, and clearly identify the opinion holder.
Stockbridge Updates is a periodic newsletter delivered through email.
Carole Owens, Managing Editor
Stockbridge Updates Policy with Respect to Submissions
SU welcomes your letters and other submissions on all Stockbridge subjects, history and current events, news and human interest, whatever is on your mind. As with articles and opinion pieces, letters are 400 words or less, no personal attacks, and always attach your name. SU does not include personal information and will delete telephone numbers, email addresses, post office boxes, and street addresses. Limit one submission per month.
Carole Owens, Managing Editor
Stockbridge Updates: Format
SU is attempting to present a consistent format for readers. SU begins with its Table of Contents. The SU Editorial is next and then the News. News is divided between one-time events, such as the election and events around town, and recurring reporting, such as the Notes from... section. It is called Notes from... because SU attends the town meetings, takes notes, and reports what happened. If SU has a comment or question, it is at the end of the meeting identified as Editor's Comment or Editor's Question. The next section is Contributors. Under contributors, you may find Stockbridge history, opinion pieces, or information from a Committee Chair or elected official. Our final section is Reader to Reader, our letter section. The issue closes with the SU Statement of Purpose and Policy for Contributors. We welcome all letter writers and contributors; deadline on the 10th for the issue posted on the 15th of the month and on the 26th for the issue posted on the first.
Your Submissions Welcome!
Submit comments, opinion pieces, and letters to the editor to carole@stockbridgeupdates.com
If you want to look at back issues, go to: our archive page
Stockbridge Updates—pass it on.